Interview Date June 4, 2018:
Caching Name : QSquared
Real Name : Sharon and Wayne Hudson
1. How did you become involved in geocaching. When did you start?
We got started when our friends (JJPew) invited us to go with them geocaching. Our first find was 2/5/2012.
2. How did you choose your caching name?
Our email names both start with the letter Q. So we call ourselves, QSquared.
3. How many caches have you found so far?
2,466
4. What brand/type of GPS do you use?
A Garmen CTrex30
5. What programs/software or hardware (PDA/laptop/phone) do you use to make caching easier?
We use the Geocaching and the Cachly Apps on our phones. I use geocaching.com on my laptop.
6. What type of cache do you prefer seeking – traditional, multi, puzzle, virtual?
We prefer traditional, regular sizes so we can move travel bugs and leave swag. We like an interesting puzzle cache or multi cache if not too difficult.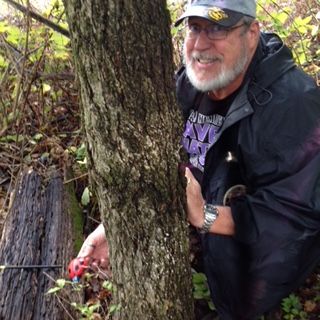 7. Which caches were the most challenging – physically/mentally? Why?
Usually physically challenging caches. Only because we are in our sixtys. We are in good shape, but we are not going too hurt ourselves for a smiley.
8. Do you have a favorite or favorites among the Maryland caches that you've found?
(Feel free to list a favorite for each type of cache) Do you have a favorite in a nearby state?
The cache "Really??!" (GC2RKHZ) was fun. The "America the Beautiful" series was fun and a good hike.
Our favorites in a nearby state have to be those by WVTim that are in and around Martinsburg, WV.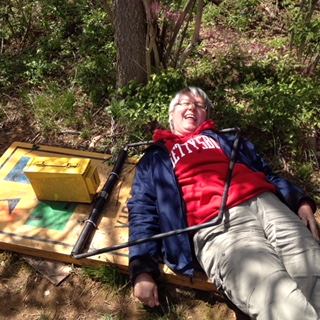 9. What's the most unusual thing that you've ever found in a cache?
We found a tent stake,
10. What are your current caching goals? Is there a certain cache that you can't wait to do?
Just to keep enjoying the outdoors by finding as many caches as we can. We enjoy ones that involve history or taking you to historical places.
11. How many caches have you placed? Do you have a current hiding goal?
We currently have placed 15 caches. Right now we are still working on our Harford Historical series.
12. What advice would you give someone that wants to place a cache? What steps do YOU take when placing a cache?
We place caches that are enjoyable for everyone. Not too dangerous for kids or older people to do. We take our grandchildren caching and they love to find swag.
13. How often do you go caching?
Well, that depends on the time of year and the weather. On nice weekends, we are usually out there somewhere. However, we have been known to go caching in downpours and snowstorms.
14. What advice would you give a beginning geocacher?
We think it's best to go with a seasoned cacher. They can teach you tricks and geo-sense.
15. Have you completed CAM in the past? What was your favorite aspect?
We have not done CAM, although we have found some CAM caches.
16. Do you collect geocoins? Of the ones that you've collected, which is your favorite?
Yes, we do. We have one that was made in honor of someone's child.
17. What type of gear do you carry with you on your caching trips? What's in your geopack?
We carry a backpack supplied with our equipment. We carry extra logs, plastic bags, containers, magnets, flashlight, pruning cutters, Band-Aids, sanitizer, water, swag, tape, tweezers, log roller, etc.
18. What is your most memorable caching experience?
Our greatest fun was caching with JJPew for an entire weekend and doing all of WVTim's smart caches in West Virginia.
19. What is your best caching story?
We spent an entire day doing the "Colonial Treasure" (GC44NEP) cache in Williamsburg, VA with JJPew. It was intense to say the least.
20. What do you like about geocaching? What keeps you going?
We like being outside and hiking. We can't do as much as we used to, but we keep moving on. Seeing new places and learning new things is nice.
21. Besides geocaching, what other things do you like to do?
We enjoy going to flea markets. We also like historical places.
22. What question did you expect us to ask but didn't. What is the answer?
How much blood have you shed to get a cache?
My husband has lost a lot of blood for a cache. That's why we carry lots of Band-aids
.
Bonus Questions: