CAM 2018 Bonus - Duck Inside
Traditional
GC7J42G
by
Snowsox
Difficulty:
2
Terrain:
2
Location:
Havre de Grace, MD
N 39° 32.372 W 076° 05.210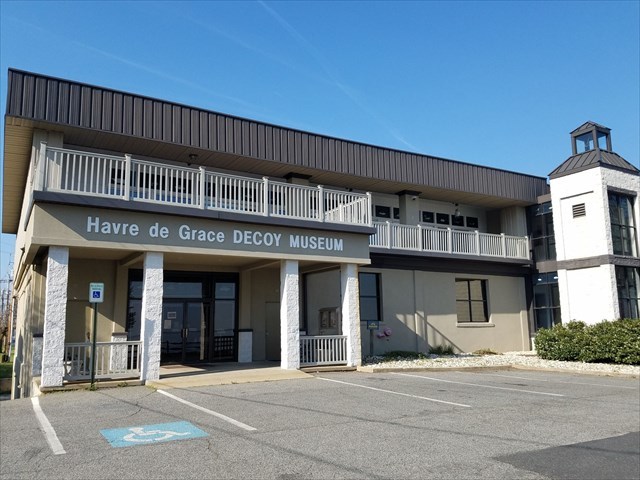 ddrams
Cachers all, fellows, my very noble and approved good masters, my colleagues, my friends, my fellow-seekers and finders. In the great wealth, the great firmament of our sport's generosity, this particular cache may perhaps be found by future generations as a trifle eccentric, but the mere fact of it--the prodigal, pure, human kindness of it--must be seen as a beautiful star in that firmament which shines upon me at this moment, dazzling me a little, but filling me with warmth and the extraordinary elation, the euphoria that happens to so many of us at the first glimpse of the majestic glow of a geocache revealed. From the top of this moment, in the solace, in the kindly emotion that is charging my soul and my heart at this cache find, I thank you for this great gift which lends me such a very splendid part in this, our glorious occasion. TNLNSL TFTC
MDSurveyor
I thoroughly enjoyed this cache while getting the CAM cache today. The puzzle was easy, and the final was fabulous. Definitely giving a favorite point.
ThunderbirdMM
We really enjoyed this one! The shad boat was very neat, as was ringing the bell! Wow. A great family time working on CAM so far. Thanks for all that went into this awesome puzzle!
simmsquest
Loved this container! Great job whoever made it. Mad skillz .
IMSpider
I enjoyed the little tour. It was all quick and easy. Gets a fav from me. Thanks for the cache.
Twin 1
Very nice craftsmanship on the final, and we got to enjoy some of the sites in Havre de Grace on the way. An FP from me too.
cajun55
Awesome walk.....awesome adventure.....TFTC
tatsmeow
This was our favorite cache of our day in Havre de Grace. It was great from start to finish. Enjoyed the hunt for the different waypoints and took the scenic shoreline back on what was the best weather day of the year to date. Let a TB for the next visitor. Left a favorite point for this excellent cache! Thanks!
mrGreen317
This one also earns a favorite (#207) along with the CAM cache. Both were so well done and thoroughly enjoyable. As someone who is biased toward the Mystery Cache types, I particularly enjoy making these finds and getting the two '?' smileys here.
Some of the swag items traded in were quite appropriate for this cache, I thought, and I took a photo of them near GZ before dropping in. I have some geo-buddies back home that love ducks; maybe they'll stop by someday if ever in the area to get this highly recommended geocache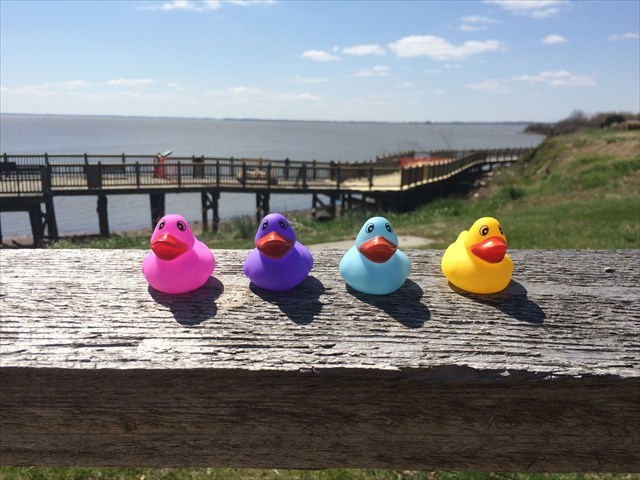 evanspack
Wow!!! What an awesome cache!! Fave from me for sure!!! Nice job!!! SL. TFTC!
Deepdish23
This CAM cache was so awesome, that I did it twice. The first time was today by myself at 8 in the morning when no one else was around while it was snowing. The second time was a couple of weeks ago with yellowrose70 and the place was mobbed with teenagers taking prom pictures. Loved the final container and loved the way the cache took advantage of the boardwalk and all along the boardwalk. TFTC
Bisquick
I had no idea what to expect at this CAM cache when I pulled into the parking lot. I didn't notice the nice board walk at first. What a nice walk it was to read the posters, answer questions, dream about how life was back in colonial days. Really hard to believe. Nearby birds kept me entertained when I wasn't admiring the scenery or gathering information from the signs. I was happy that the little light house was one of the stops. I love light houses. This was another one of my favorite caches. Thanks for bringing Humphr1d and I to this place.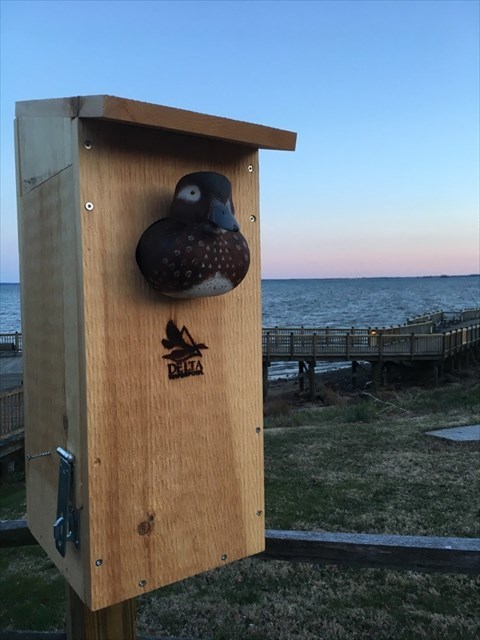 Suttymonks
Arrived on site to find that the dog had to stay in the car for this one. We tucked him into his blankets and told him to take a nap. (He did; he's 10 and appreciates breaks.) It was getting later in the day while we were there and the longer we walked along the boardwalk, the more both us longed for the jackets that had been left behind in the car. By the end, we were quite chilled! We really enjoyed the fact that the field puzzles for this hide took us to different signs about different things. Not all the signs were history-oriented. J does not enjoy those but G does. Some were environmentally-themed, which J appreciated. There were questions that adults would need to ponder on and ones that kids in the group could answer independently. It was a very nice mix. Thank you for being so thoughtful. We also always appreciate a checksum when dealing with field puzzle. We had no trouble making the find/ final. We took nothing, but left "Waddle", a stuffed TY penguin toy that we're sure a kid will be happy to find. He is inside a plastic baggie to keep him dry. This one did take us quite a while to do, but we enjoyed it. And when we got back to the car, we snuck up to see the dog and he was, as expected, fast asleep. TFTcamC!