MGS 15th Anniversary Geocoin
VERSION A – Antique Bronze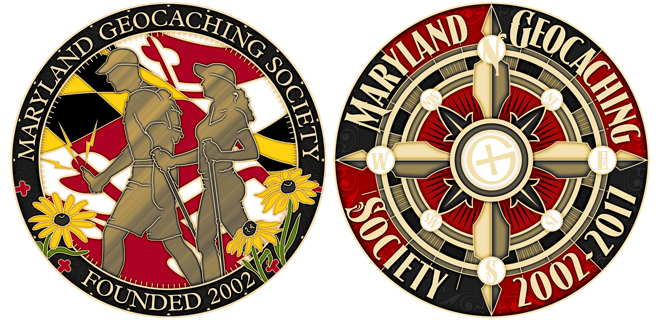 VERSION B – Matte Silver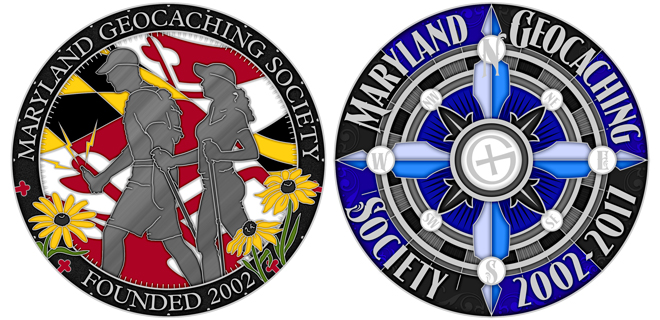 For a limited time, the
MGS 15th Anniversary Geocoin
is available to purchase by pre-order. This coin, designed by Christian Mackey of AURA Design Group, is being minted in two varieties:
Version A
in Antique Bronze, and
Version B
in Matte Silver (see images above).
The cost is $15 for one coin, $25 for two.
Once the coins have been produced and delivered to the MGS, they will be available for collection at MGS events. If you are unable to pick up your coin at an MGS event, we can mail it to you for an additional postage fee:
$3 for the first two coins, +25¢ for each additional two coins
(see examples below).
While a few extras will be ordered,
the only guaranteed way to obtain these coins is to order during this presale
. When the coins are gone, they will not be reordered. This offer ends soon, so act now!
To purchase your 15th Anniversary coins, send an e-mail to

[email protected]

and please specify the version, quantity, and whether you want your coins shipped or held for pickup.
You will receive a response with instructions for making a PayPal payment.
Cost examples (coin + shipping):
  • 
1 coin:
$15 + 3 =
$18
  • 
2 coins:
$25 + 3 =
$28
  • 
3 coins:
$40 + 3.25 =
$43.25
  •
4 coins:
$50 + 3.25 =
$53.25
  •
5 coins:
$65 + 3.50 =
$68.50
     and so on…